How to fund a brewery...
If you haven't heard our Kickstarter is up and running! Kickstarter is a crowd sources funding platform that has launched hundreds of companies and thousands of products. With the new brewery underway we saw a crowd funding round as a great way to promote our new space, give people a sneak peak into what we have planned, and raise a bit of money to help offset our construction costs. Having a bit of tech background to our team made running a Kickstarter a piece of cake! The first step to any successful Kickstarter is making sure you have awesome backer rewards.
For this we relied on our great line up of merchandise, but we knew we needed something more! While our brewmaster was out taking in a gallery night in the Third Ward of Milwaukee, he happened upon the Milwaukee Potters Guild studio. There were many nice pieces but one caught his eye, it had little clay birds on it and small little "bubbles" along the side. Asking about he found Wendy Artman to be the artist. She was excited about creating a custom set of limited edition mugs for our Mug Club that would be available to our Kickstarter backers. The hunt was on to find the perfect mug!
Several iterations found the mug with three dimensional birds, loads of bubbles, various shapes and glazes abound. Eventually a final design was settled upon. The logo would be a separate stamped piece that was added to a pint glass shaped mug, and we would ditch the 3D bird. The bubbles would cascade down the outside of the mug to allow easy sipping from the opposite side. We wanted an industrial feel so the mug would be glazed with a special gunmetal glaze. Everything was perfect. Except every mug that was kilned was shrinking to an obscene degree! Giant 20oz imperial chalices were coming out as tiny 12oz teacups! After several iterations a final size was found that would shrink down to the appropriate size and our awesome limited edition Kickstarter mugs were ready for their debut!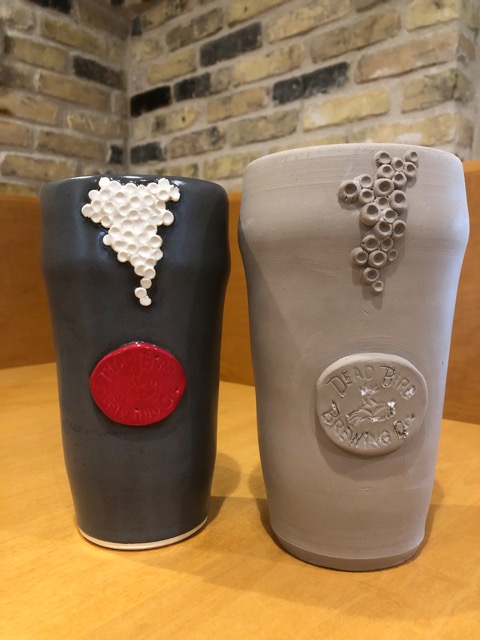 There are only a handful of these mugs left so be sure to head over to our kickstarter, here, and donated at the $125 or $250 level to ensure you get one of the one of a kind pieces of art! Also be sure to head over to Wendy's facebook page and check out her other amazing pieces!